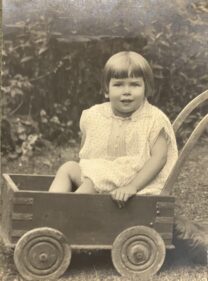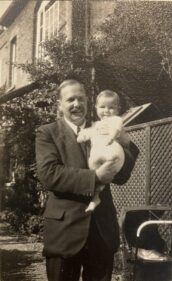 Darwin family member Charles Littleton has kindly presented a photograph album to the College which includes pictures of his mother, Cecily Darwin Littleton, as a child at Newnham Grange – now Darwin College.
Born in 1926, Cecily, who died last year at the age of 95, was the great-granddaughter of Charles Darwin, and the granddaughter of Sir George, Plumian Professor of Astronomy at Cambridge, who purchased the house in 1885. Cecily's father, the physicist Sir Charles Galton Darwin, was born in the house in 1887, and died here on New Year's Eve 1962/3. Her mother, Katharine Pember, was a mathematician.
Cecily studied Chemistry at Somerville College, Oxford, where she specialised in x-ray crystallography, before moving to Philadelphia as a Research Fellow at the Institute of Cancer Research. She married John Littleton in 1951, and spent the rest of her life in Pennsylvania. While raising her four children she maintained lifelong scientific interests, including using early computers to support astronomical research at Haverford College in the 1960s.
Her son Charles joined the Master and College members for tea last Thursday after presenting the album, which is now held in the Darwin College archive.