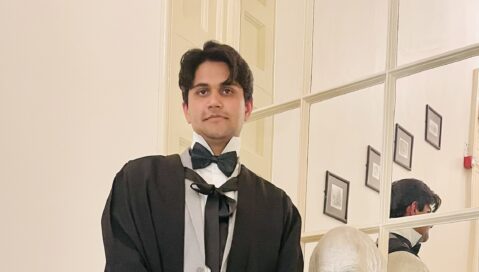 When Maroof Rafique left Pakistan to begin a Masters in Law at Cambridge, he knew he would find himself in a minority in England. What he hadn't anticipated was what form that would take.
"I was the only Pakistani on my course – among 65 Indians," he says now. "They'd all be planning internships and get togethers in India, and they'd invite me and I'd have to say I wouldn't be able to get a visa."
But if his Cambridge experience unexpectedly highlighted political tensions back home, it also allowed him to widen his sense of identity.
"I've spent my whole life among 231 million Pakistanis," he says. "I don't need to surround myself with them here."
Instead, Maroof threw himself into College life at every level, from successfully resurrecting the Darwin College Cricket Club, which had been dormant since the pandemic, to serving as DCSA External Officer.
"There's no College I haven't been into as part of my DCSA role, and I realised that the most important aspect of Darwin is its community. There's much less pressure to fit in at a postgraduate College – there's none of that undergraduate bravado. There's a really empathetic sense of family. And the staff are so cooperative, supportive and welcoming. You can build those relationships here, whereas other Colleges have a much bigger gap between staff and students."
Living in Darwin throughout his year-long studies enhanced this sense of connection.
"I liked it out of term-time when there wasn't anyone else around. It felt like home! But even in term I had very different sleeping hours, so I'd sleep in the afternoons, and end up working late at night. Coming downstairs to the Reading Room at two in the morning, getting a hot chocolate from the machine in the corridor, and snuggling up under a shawl watching the ducks on the river…I just wanted time to stop. I could have stayed there for ever."
Having qualified as a lawyer in Islamabad, where he worked before taking up his studies at Darwin, Maroof is now working to qualify as a solicitor in the UK. However, having acquired a taste for student engagement, he will remain in Cambridge for a further year to serve as BAME Sabbatical Officer in the Cambridge University Students' Union.
"I was really touched to be elected, as most people voting won't know me personally," he says. "I'm excited by the work we've got planned on decolonisation."