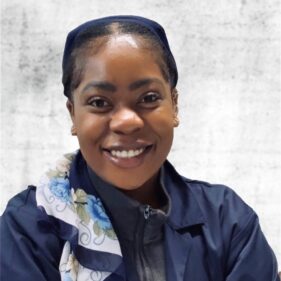 Tanya Mangoma's teaching staff at the University of Manchester have a lot to answer for. Although she began her undergraduate degree in Material Science and Engineering with the intention of pursuing a career in banking, she was quickly inspired to change direction.
"I never wanted to do engineering long-term, but as soon as I started my undergrad, my advisors were so amazing and passionate that I loved what they were doing. I knew I wanted to do a PhD!"
Tanya's four-year undergraduate master's degree included a year in industry. This experience led her to gravitate towards manufacturing and electronics for her PhD. Her PhD research on 'AI-defined next-generation adaptive electronics for neuromorphic engineering' involved generating and studying tiny computer chips that mimic the brain's function.
"The idea is that AI, which we're already using, is essentially trying to work like the brain. So, we're attempting to make hardware or chips that function in that way. Specifically, I was making these chips using 3D printing. Traditionally, when making chips, you use advanced technologies that require clean rooms, etc. I made my prototypes using 3D printing, which meant I could produce many of them and study them in depth."
The chips were specially developed for biological functions and were tested in an application space.
"The concept was to take a biological signal, like your glucose level, compute it in real-time, and then produce an output, such as insulin."
The research spanned several departments, leading to a multidisciplinary experience across the Institute of Manufacturing and the Bioelectronics group within Electrical Engineering.
While in the process of her PhD, Tanya ventured into patenting her concept. She took steps to establish a start-up to bring her vision to life but was met with challenges — the essential supporting technology was still in its infancy.
Still, this technology was her ticket to a prestigious position as a Founder-in-Residence at Deep Science Ventures. In this role, she's channeling her PhD learnings into practical, commercially-viable computer chip designs.
"Now, I'm making computer chips designed for the brain for general-purpose applications. Everything I learned in my PhD was translated into 'what can be used right now, commercially,' and that will be employed to make the technology viable in the near future."
While at Darwin, Tanya served as the BAME representative on the DCSA and was instrumental in promoting initiatives that are now integral to college life.
"I became quite involved with EDI (Equity, Diversity, and Inclusion). It was rewarding because I got to sit with the Master and College officers to discuss improvements for Darwin. I felt they listened intently. Before I left, they conducted a survey on our feelings about EDI in Darwin. It was truly heartening to see them take it so seriously. As a result of those discussions and the recognised need for people to have a space to converse, the College counsellor, Beau, was appointed. I'm very proud of that achievement."
Tanya moved to the UK from Zimbabwe in 2011 to join her parents and completed her secondary education in London. While she now considers the UK her home, she is making the most of her current remote-working contract by basing herself in Spain.
"I'll be here at least until December – and then we'll see!"