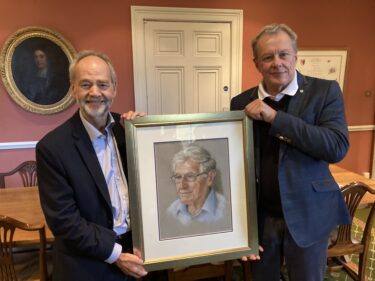 The family of the late Richard King CBE, Fellow of and generous benefactor to Darwin, presented the Master, Dr Mike Rands, with a portrait of Richard on Friday, 10th November. The portrait provides a fitting memorial of someone who contributed widely and generously to College life over many decades, and will in due course be displayed in the Richard King Room, named in his honour.
Richard was elected as a Fellow in May 1986, providing a deliberate and valuable point of connection between the College and the world of industry. As Managing Director of Cambridge Electronic Industries, and President of the Society for the Application of Research, his perspective was distinctive and much appreciated in an otherwise academic setting. Richard gave regularly and generously to Darwin in a personal capacity throughout his association with the College, and supported its fundraising efforts as a member of the Finance Committee and Appeal Committee.
Richard died in June 2020, aged 90, and his widow Anne maintains her longstanding connection to Darwin as a regular visitor. We were delighted to welcome their son, Gary, last week to present the kind gift of the portrait.
Richard's obituary appeared in the Darwinian in the summer of 2020.