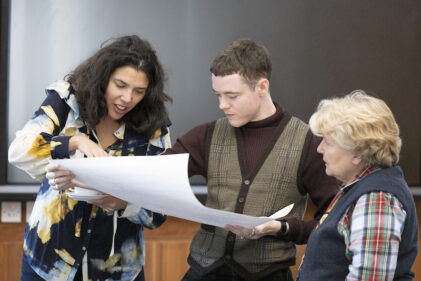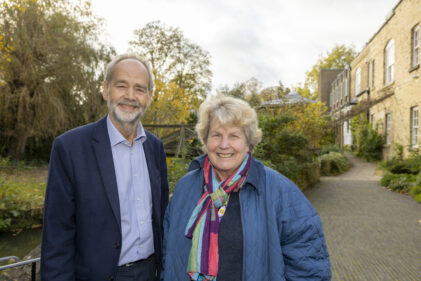 Sandi Toksvig joined students, staff and Fellows for lunch at Darwin yesterday to discuss her ambitious new project to document and digitise the global difficulties faced by women, as well as their achievements.
The writer, broadcaster and founder of the Women's Equality Party, an alumna of Girton College, has returned to Cambridge to take up the newly launched Q+ Fellowship. Created by the Department of Sociology, the Fellowship is intended to provide opportunities for LGBTQ+ alumni to spend time at the University conducting research or developing an idea, while supporting their connection to Cambridge. Sandi, who has been elected as a Bye-Fellow of Christ's College for the 2023-24 academic year, is pursuing her goal of creating an interactive "Mappa Mundi", to present data and statistics on the challenges and limitations imposed on women across the world, acknowledge and celebrate their successes, and provide a platform to share their stories.
Sandi and Brigid Gildea of Jesus College's Curiosity Incubator, who is collaborating with her as co-founder of the project, joined the Master and other Darwin members to present their vision and intentions, and to seek and share ideas and suggestions. They also met the College's Equality, Diversity and Inclusion steering group and heard from students on efforts to support inclusion throughout Darwin, as well as the impact and importance of Sandi's emblematic role as a visible LGBTQ+ presence in Cambridge.